2020
March
23/04/2020 Telephone Consultation Skills and Triage Skills Training
Are you worried about doing telephone triage or perhaps you are already experienced in this high risk area and want to brush up on your skills? This course will provide you with a real understanding of how to manage the risks involved in telephone consultations and the benefits this work can bring when practiced effectively. This day is entirely practical and will give you tools and techniques to handle telephone consultations.
May
07/05/2020 ChildProtection/Safeguarding Training for General Practitioners- Level 3
This is a child protection level 3 safeguarding day aimed at practicing GPs, trainees and doctors. The course will provide an update on current rules and regulations, current guidance and current best practice in relation to managing suspected child abuse.
14/05/2020  RCGP Wales - Early Detection of Liver Disease in Primary Care Workshop
RCGP Wales are hosting this Early Detection & Prevention of Liver Disease in Primary Care Workshop, in collaboration with the British Liver
16/05/2020 Cardiff Medical Society Celebratory 150th Anniversary Dinner
The first meeting of the Cardiff Medical Society was in 1870, 150 years later it still has a flourishing membership, regular meetings and is a great way to meet colleagues and catch up with old friends. To mark this momentous occasion we are aiming to have a big celebratory dinner. Enquiries to
cardiff.medicalsociety@gmail.com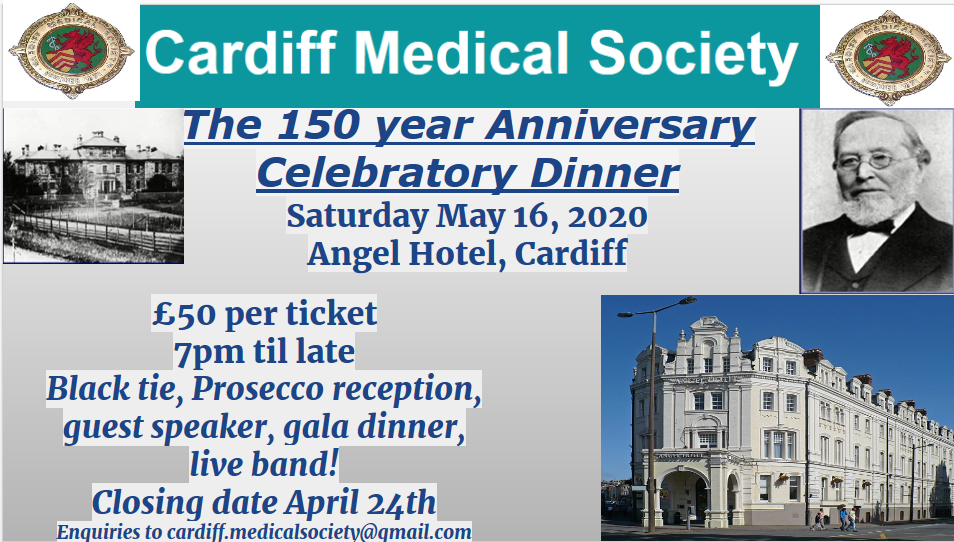 June
July
August
September
October
November
December
2021
January