Non Emis Accurx use
26 March 2020
You may have heard of an add on to Emis systems called Accurx, which provides video consultation and the ability to text not just messages but pictures and pdf files such as med3s. Accurx is a pretty good bit of kit and has been well received aby a number of EMIS practices
"But what about us Vision or Adastra users?" you may cry. Well the good news is that Accurx can be used on its own outside of Vision or Emis and is easy to get up and running.
Please watch our video or follow the guide below for step by step on getting yourself set up with AccuRx:
If the video does not work please copy and paste the following link into your web browser: https://youtu.be/g0YrzEv-TRA 
First thing you need to do is register an account. As we all have NHS wales emails you do not automatically get an account but its very simple to do.
Go to:  https://fleming.accurx.com on Google Chrome (internet explorer does not like this programme)
Click on nhs.net email option and then create account
Create your account by following the instructions which should bring you to this page
Select the tool you wish to use.Video or SMS.
For now lets look at video consultations.
To provide a video consultation you need the patients NHS number, DOB and mobile phone number you will be contacting them with.
Click on video consultation and add the information required
Check the details are correct and then click the button in the bottom right "Send video consultation invite." The message above will then be texted to the patient on the mobile number given.
Clcik on "Open Video consultation and it should open the video chat as below. Once the patient clicks on their end their video will appear in the right hand window.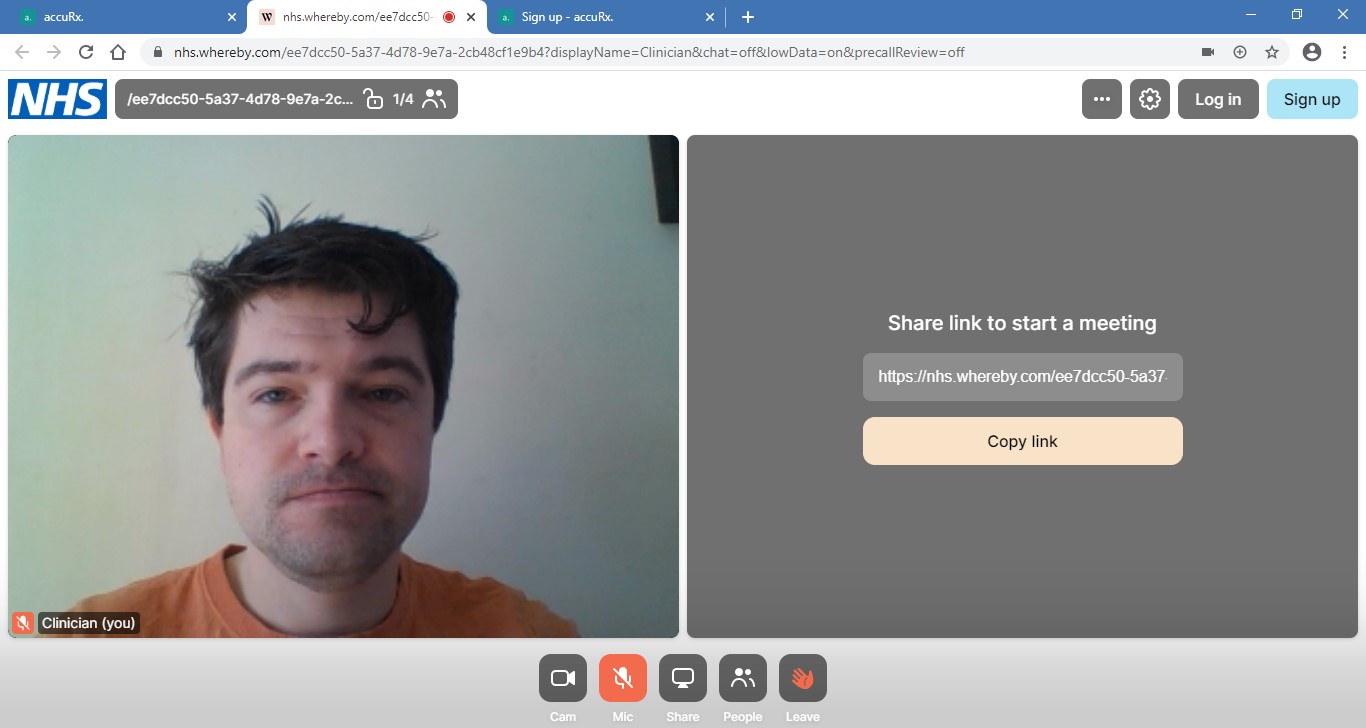 Potential issues:
If you don't click on the tab to accept use of audio and video aspects of your device it wont work. That is at both ends to remind the patient they need to accept this in order for the system to work.
A couple of patient have found the audio not great from the microphone on the camera I have been using. You can use a headset device to improve this or what I have done is ring the house phone at the same time in order to speak to the patient whilst reviewing via their mobile phone camera.
The text message options work in a very similar way to the start of the video consultation. In theory Med3s can be saved as pdf fiels and attached onto text messages if the need arises.
Accurx have some good videos on youtube to show its use: https://youtu.be/eq33DYQpjSQ
Doccumentation then needs to be made in Vision or Adastra as normal.